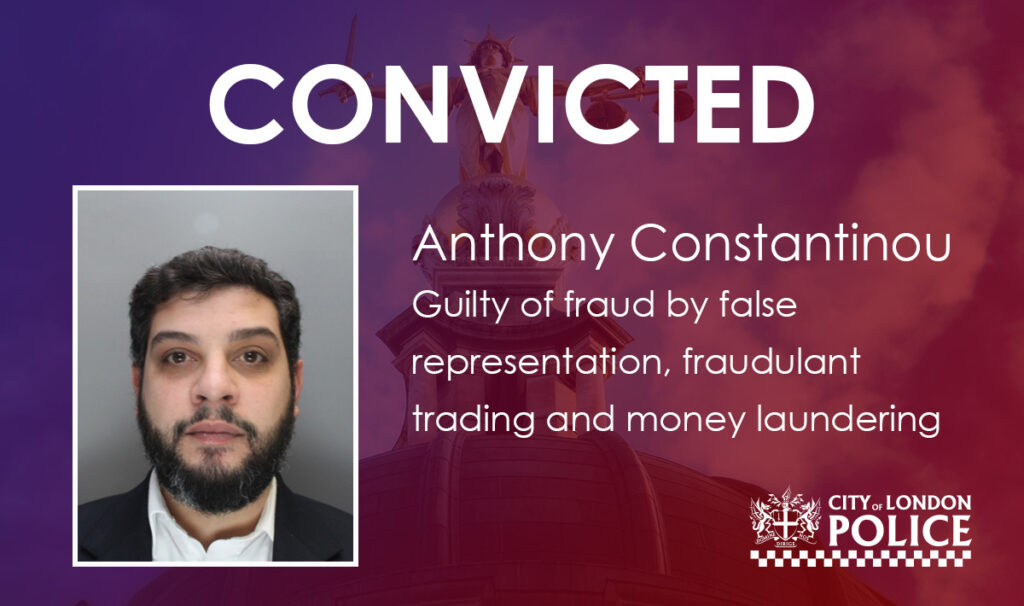 In a shocking case of financial deception, Anthony Constantinou, the mastermind behind a Ponzi-style investment scam, has been found guilty. Constantinou, the founder of Capital World Markets (CWM), promised investors lucrative returns on risk-free foreign exchange trades. However, instead of investing the funds as promised, he used new investors' money to pay off existing investors.
The Deceptive Investment Scam:
Operating from late 2013 to early 2015, CWM enticed investors with the promise of monthly returns of 5% and annual returns of 60% on their investments. Constantinou lured unsuspecting individuals with the allure of high-profile sports sponsorships and luxurious offices. With over 250 victims involved, the scam accumulated £70 million. However, rather than investing in foreign exchange markets, Constantinou used new investors' funds to pay the promised returns. Effectively running a Ponzi scheme that relied on an ever-increasing pool of victims to sustain itself. We have a mini Bernie Madoff on our hands.
The Illusion of Safety:
To further deceive with his investment scam, Constantinou employed sophisticated tactics to create an illusion of safety. He assured investors that only 10% of their capital was at risk, with the remaining 90% held in a segregated account in Germany. Matching funds from CWM and Constantinou's personal guarantee were presented as additional safeguards. These claims made the investment appear secure. Providing a false sense of confidence to those caught in the web of deceit. However, investigations revealed that the funds were not being invested as promised. Purported returns were merely a result of circulating investors' own money.
The Investigation and Arrest:
The investigation into CWM and Constantinou began in 2014 when police officers recognised the fraudulent nature of the scheme. Taking swift action, they stopped the operation to protect investors and prevent further harm. In March 2015, police searched CWM's offices in the iconic Heron Tower and arrested Constantinou. A subsequent examination of CWM's finances uncovered extravagant spending, including £3 million on Constantinou's personal expenses, funded by clients' money. Despite his attempts to deceive investigators and deny wrongdoing, the jury unanimously found Constantinou guilty.
The Elusive Fraudster:
As the trial progressed, Constantinou absconded and failed to attend the later stages of the court proceedings.
Authorities have issued an international arrest warrant to trace him. Reports indicate that he was arrested in Bulgaria with fake identity documents, but authorities subsequently released him and he remains at large. Constantinou's sentencing in absentia is scheduled for 9 June. The pursuit for justice continues, as authorities work tirelessly to apprehend the mastermind behind one of the largest investment scams in recent memory.
The case of Anthony Constantinou and the CWM investment scam serves as a stark reminder of the dangers lurking in the world of unregulated investments. Investors must remain vigilant and exercise caution when presented with seemingly irresistible opportunities. Through this conviction, authorities aim to bring justice to the victims and send a clear message that fraudulent schemes will not go unpunished. Or so we hope. Sadly, not all cases end in a conviction- perhaps the most extreme ones do. If you a regular reader of ours, you will now that we wax lyrical about due diligence. However, if you are past that point and feel you are the victim of an investment scam or are struggling to get a return. Call us now on 02075041300.
Beech Holdings (Manchester) Ltd (now called Manchester Property Developments Holdings Ltd) is a company self-described as a prominent residential developer and operator with a rich…
Read More